Beautiful textiles for a better world.
Core Fabrics was born from the desire to source and supply beautiful, high-quality textiles that are kinder to the planet and people who produce them. As makers passionate about both craft and sustainability, we're committed to providing our vibrant community of sewists with inspiring fabrics that are manufactured and distributed in environmentally and ethically responsible ways. This means that you can feel good not only about your beautiful handmade wardrobe, but also the resources you used to create it.
We offer a curated selection of exciting and modern fashion fabrics sourced from reputable mills, wholesalers and master artisans. From crisp linens and swishy silks to intricate handwoven cottons, we prioritize natural and renewable natural fibres, with a focus on eco-certified fabrics manufactured by responsible producers, and deadstock fabric recycled from the fashion industry. We hope to make buying fabric online a fun, easy-to-navigate experience with clear product descriptions, captivating imagery, and transparent information about where our products come from, so you can make educated and informed choices as a consumer.
Believing in progress not perfection, we acknowledge achieving complete sustainability is an ongoing goal and one that we will continually strive towards as humble lifelong learners. Through intention and conscious action, we hope to make a positive impact on our industry while providing inspiring resources to create truly one of a kind garments. Let's sew a better world together!
We ship internationally from our studio based in Montreal, Canada.
Our Story
From Heather Lou, co-founder:
The concept for Core Fabrics came to me fully formed one night when I couldn't fall asleep. On this evening in December 2020, I had been happily running our pattern brand, Closet Core Patterns, for over 8 years. While I had my hands full releasing new patterns, managing our team and growing our small business here in Montreal, I couldn't shake this stubborn idea, a vision of a perfectly curated one-stop-sewing-shop, with every fabric as sustainably and ethically sourced as possible. I wanted to create a fun, inspiring place where you could get everything you needed to sew your dream wardrobe, and do it with the knowledge that you had made good choices for our planet. A place where we could continue to celebrate the craft of sewing, and connect our community with unique textile producers creating fabrics that were sustainable and beautiful in equal measure.
The idea for Core Fabrics didn't just come from my own personal desire for more conscientious craft consumption… it came from our community and our needs as a business. Every day our customers write to us asking for advice about fabric, tools and supplies, and at Closet Core, we often found it challenging to source a wide range of unique and eco-friendly textiles to highlight the potential of our pattern designs. I could envision an online shopping experience that married all of these needs, a place that combined our passion for design, sustainability, sewing education, and gorgeous fabrics all in one place.
Eventually the vision grew so demanding I couldn't ignore it anymore. I realized that if I ever wanted to sleep again, I needed to figure out how to make this dream a reality. Enter Tereska.
Tereska: You sent me a text message.
Heather: Not the best way to change your life, I'm sorry. Did I have you at hello?
Tereska: I was making dinner for my kids and you asked me if I wanted to quit my job and run a fabric store with you. I ended up burning dinner.
Heather: We've been best friends since we were fifteen, listening to Tori Amos, reading Leonard Cohen poems and dressing like bedraggled hippies. Remember when we bought that building together and tried to be landlords for five years? We were in our early twenties and had no idea what we were doing. I still remember gouging a hole in the floor with the sander when we were trying to DIY our entire apartment.
Tereska: Or trying to figure out how to snake a drain when someone clogged the pipes. So many weird adventures!
Heather: And then you got married and we sold the building and went back to being *just* friends again. That was a bit of an adjustment for me, but I never forgot what a killer team we made.
Tereska: We have strong complementary energy. You have big ideas and I love figuring out how to execute them.
Heather: I think we're kinda soul mates.
Tereska: Don't tell my husband.
Heather: Oh, he knows. I think you're allowed to have more than one soul mate.
Tereska: We ended up talking later that night and you sketched out the entire vision to me in five minutes. I studied fashion design and worked in costume for TV and film for years before creating a sustainable urban agriculture start-up with my husband. I had recently left that business to pursue a job in tech, but I missed the scrappiness of entrepreneurship and leading a team. I couldn't sleep that night at all. The next day I told you I was in.
Heather: I might have cried. I got so attached to the idea of Core Fabrics but I knew there was no way I could do it without you.
Tereska: How could I say no? We get to be work wives again, and we're building this really exciting sustainable business model. The fun part for me is discovering this new industry and figuring out how to implement a progressive and ethical strategy for product sourcing AND team building. We're learning so much and getting better every day. Even though we both have a lot of experience running businesses, this is all new to us, so it kind of feels like we're re-inventing the wheel sometimes. We've made a lot of mistakes already, but it's been so much fun to learn and grow and do this with you. I am so excited to see where we can take this.
Heather: I love you. I'm so happy we're doing this together.
Tereska: Me too. Now let's get back to work.
......
So that's our story… While I continue to run Closet Core Patterns and figure out new and integrated ways to work now that we have a whole fabric store at our disposal, Tereska is behind the scenes discovering suppliers who meet our high standards, coordinating the million details of an ecommerce business, and building our growing team. While we've separated Closet Core Patterns and Core Fabrics as individual businesses, they feed and nurture each other in unique ways, and we have big, ambitious dreams of what these two sister brands can accomplish united towards the same vision. We're having a blast, and hope you will too while exploring our site and everything we have to offer. Thank you for coming along for the ride. We can't wait to show you what Core Fabrics is, and will become.
Meet Our Team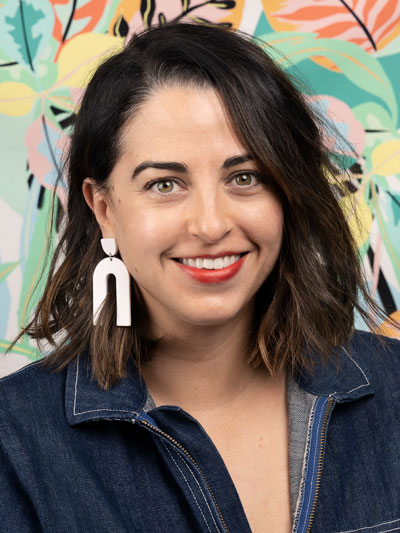 Heather
Co-Founder
Heather oversees the creative direction of both Core Fabrics and Closet Core Patterns, and works closely with the CF team to curate high quality and stylish garment fabrics. When she's not sewing, reading, cooking or watching comfort TV, she can be found nuzzling her beloved dog Harry and/or getting happily lost in the Canadian woods.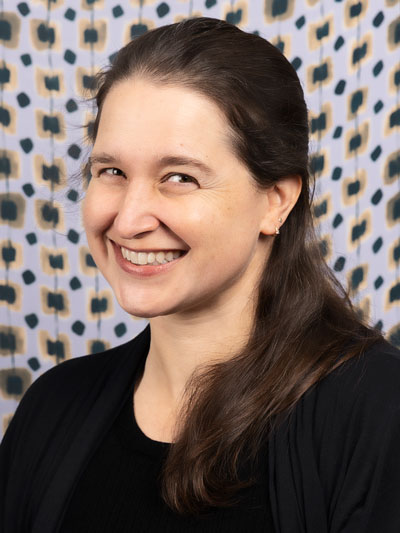 Tereska
Co-Founder
The organizational and logistical maestro of Core Fabrics, Tereska coordinates the day to day management of our small team and uses her fabric detective skills to track down the highest quality textiles on the market. When she's not knee deep in fabric samples, she can be found knee deep in her garden, or kicking butt at a kickboxing class.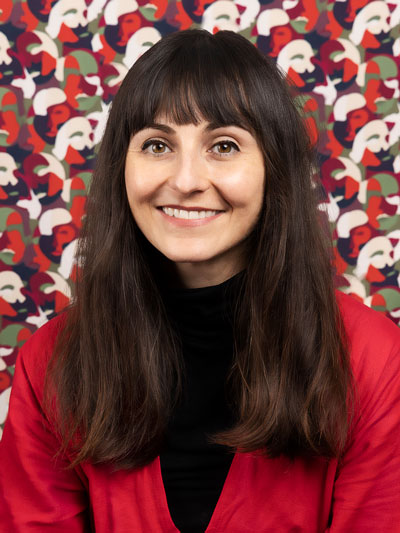 Emmanuelle
Marketing Coordinator
The "je ne sais quoi" of the Core Fabrics team, Emmanuelle brings her chic French sense of style and mad punning skills to our marketing team. Passionate about making, master of bangs, lover of coffee and author of an inspiring sewing blog, she's also the winner of Best Dressed in the studio more days than not.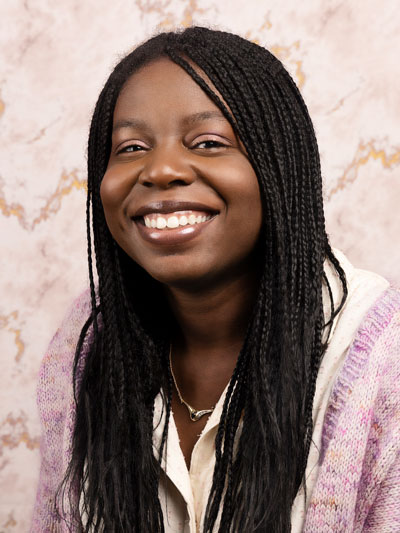 Ama
Community Manager
Responsible for planning social media content, replying to comments, and answering all your burning DMs, Ama is our in-house tech and social media expert who happens to also know everything about make-up and knitting. She's also an incredibly gifted quilter, and even hosts her own crafting show on Twitch!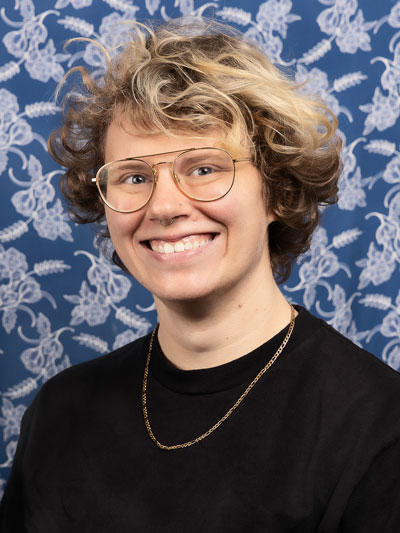 Blare
Order Fulfillment
Whether it's shipping your orders, organizing our warehouse or muscling 500 pounds of fabric into our studio, Blare is an indispensable member of our fulfillment team. She is also a gifted (and hilarious) illustrator, so if you ever find a cute drawing on your order confirmation, you have Blare to thank.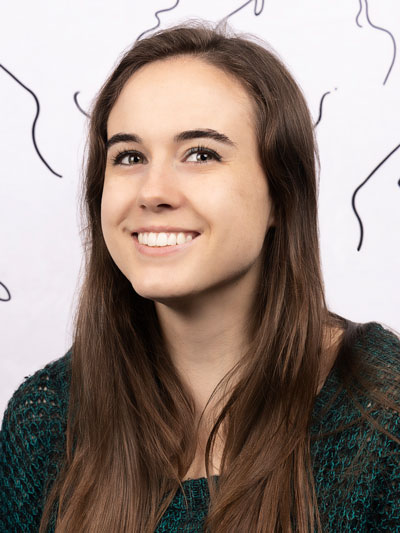 Anna
Order Fulfillment + Customer Service
Anna wears many hats on our team, from packing up your orders, to answering your customer questions and helping keep our website in tip-top shape. The lone American in a sea of Canucks, we try to make Anna feel at home, eh?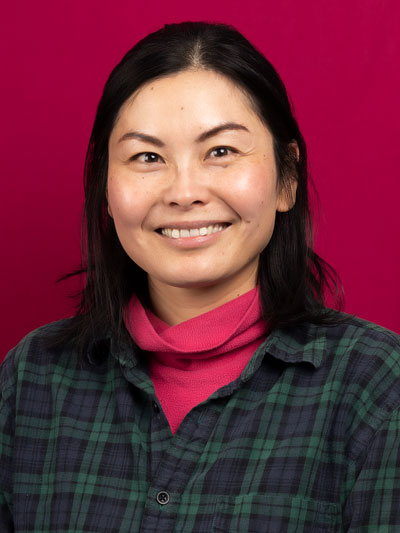 Yukari
Order Fulfillment
Yukari works in house assembling our various products, so you have her to thank for your meticulously packaged notion and fabric kits. A busy mom of rowdy boys, she always brings in the best snacks for the team.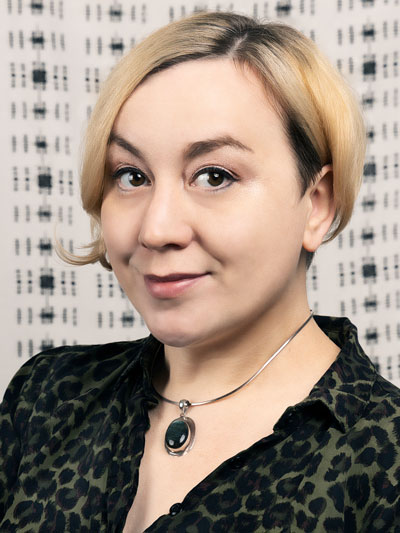 Courtney
Photography
Drooling over our luscious fabric photography and videos? That's the hard work of our in-house photographer Courtney! Master of props and stop motion animation, no one does a better job of bringing textiles to life, and no one goes through a bottle of hot sauce with more delight.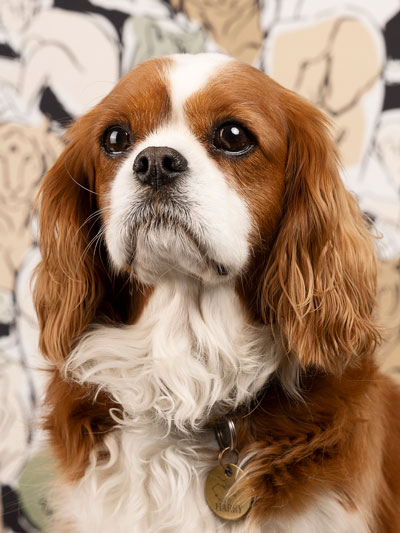 Harry
Team Therapist
A trained therapy dog (seriously!) Harry is easy on the eyes, soft under the hand, and desperate to eat our lunches. He loves chicken bones from the sidewalk, long walks in the snow, barking at delivery people, and chasing squirrels.